---
LeglizHemp - 8/8/2017 at 10:50 PM

it doesn't make sense for dealers to be killing their users. fentanyl mixed into the heroin seems to be the issue. WHY? someone or group is killing people on purpose. ok my rant is done, but i truly believe it.


http://www.huffingtonpost.com/entry/drug-overdose-deaths-hit-record-high_us _5989d195e4b0a66b8baed05e?ncid=inblnkushpmg00000009

08/08/2017 02:28 pm ET | Updated 48 minutes ago
New Report Shows Drug Overdose Deaths Hit Record High
The numbers have come out one week after Trump's commission on opioids asked him to declare the epidemic a national emergency.
By Erin Schumaker

Drug overdose deaths hit a record high between July and September of last year, according to a National Center for Health Statistics report released Tuesday.

The latest government numbers show that the overdose death rate topped out at 19.9 deaths per 100,000 people in the third quarter of 2016, compared to 16.7 deaths per 100,000 people during the same period in 2015.

President Donald Trump's commission on opioids has urged him to declare the opioid epidemic a national emergency.

"With approximately 142 Americans dying every day, America is enduring a death toll equal to September 11th every three weeks," the commission wrote in its interim report released last week.

"Your declaration would empower your cabinet to take bold steps and would force Congress to focus on funding and empowering the executive branch even further to deal with this loss of life," the report continues.

Trump is scheduled to meet with top officials on Tuesday for a "major briefing" on the opioid epidemic, but it remains unclear whether the president will declare a national emergency or address the commission's public health concerns and treatment recommendations.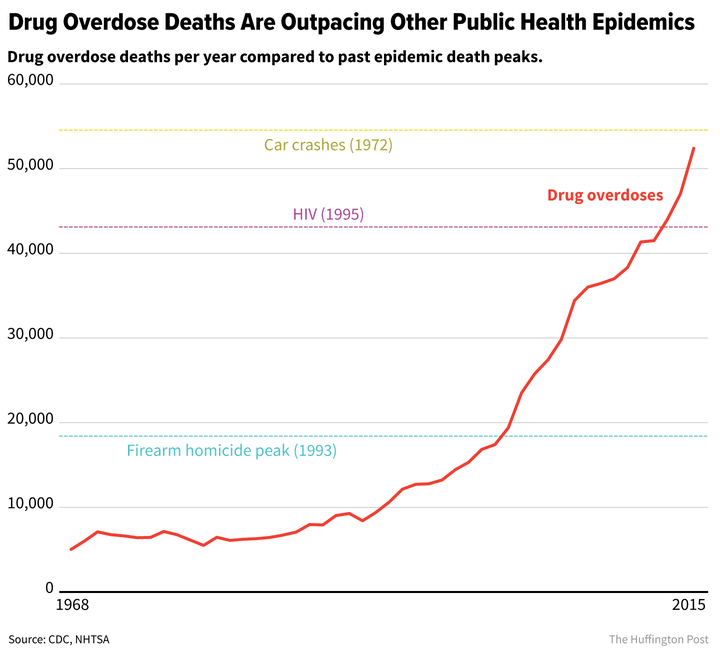 The new numbers also come on the heels of a study published Monday in the American Journal of Preventive Medicine, which analyzed drug mortality rates from death certificates in an effort to more accurately assess opioid and heroin drug fatalities. It found mortality rates that were 24 percent higher for opioid overdoses and 22 percent higher for heroin overdoses than the numbers that had previously been reported.

As it stands, more than 50,000 Americans died of drug overdoses in 2015, surpassing annual HIV and firearm deaths during the peak years of those epidemics.

"Death rates from opioid overdose continue will continue to rise until we implement a comprehensive strategy to reduce harms and expand treatment for opioid use disorder using effective medications," Dr. Peter Friedmann, associate dean for research at the University of Massachusetts Medical School and chief research officer at the nonprofit Baystate Health, told HuffPost.
---
OriginalGoober - 8/8/2017 at 11:56 PM

why are that many more people now using these? we have spend along time since Sept 11, 2001 at war. I dont think its a coincidence.

https://www.cdc.gov/mmwr/preview/mmwrhtml/mm6450a3.htm







[Edited on 8/8/2017 by OriginalGoober]
---
LeglizHemp - 8/9/2017 at 12:04 AM

this is not directed at you goober.

this is not a partisan issue. something needs to be done. it is above my pay grade to offer solutions.

i'd be surprised if no one here has been touched by this problem in some way.

PLEASE PAY ATTENTION TO THIS PROBLEM

sorry for shouting
---
pops42 - 8/9/2017 at 03:15 AM

It has to do with pharmaceutical companies and doctors pushing synthetic opioids since the mid 90s, [GREED] and people becoming addicted, moving on to heroin because it is cheaper.
---
robslob - 8/9/2017 at 11:43 AM

Yes, and let's continue to go after marijuana users Mr. Sessions, makes perfect sense doesn't it you complete nincompoop.

---
heineken515 - 8/9/2017 at 01:05 PM
quote:

---

it doesn't make sense for dealers to be killing their users. fentanyl mixed into the heroin seems to be the issue. WHY?

---


I watched a few minutes of one of those undercover drug shows where they were interviewing a dealer that had a mask on.

He said he did this, mix fentanyl in with some of his street packs of heroin. Not all, like every 10th packet or something.

His twisted reasoning was that by sending some unsuspecting user to the ER or causing their death, his "product" would gain street credibility. Other users would hear of the ER visit or death and think, "wow, this must be some really good chit."
---
porkchopbob - 8/9/2017 at 03:02 PM

I live in south Florida and this is actually a major, daily issue here. The south Florida climate has made it a destination for drug addicts to get clean, many of them addicted to prescription pain killers, i.e., opioids. However, this has lead to "Sober Home" scams. A suburban home will be purchased and the "landlord" will get money from health insurance companies to run the property as a rehab home, all while funneling opioids to the residents, who are easy targets. If the "patient" dies, it makes room for another new arrival. Local authorities are trying to break up the false "sober homes" while dealing with daily over-doses. I've seen more needles in a year here than in over a decade in Brooklyn.

Here's an article on the subject:
http://www.mypalmbeachpost.com/sober-home-invasion/

Naturally, our President says the best solution is to not start using, which is really helpful and completely misses the issue.


[Edited on 8/9/2017 by porkchopbob]
---
sixty8 - 8/9/2017 at 06:10 PM

In the meantime they continue to waste tax payer money and law enforcement trying to fight the decades long losing battle against marijuana. Makes zero sense.
---