---
jszfunk - 3/12/2018 at 11:39 AM

http://www.blabbermouth.net/news/make-your-name-look-like-the-judas-priest- logo-on-firepower-album/

JUDAS PRIEST has released a name generator that enables you to "forge your own name in steel" and have it displayed in the style of the PRIEST logo as it appears on the band's latest album, "Firepower".

http://judaspriest-namegenerator.com/

"Firepower" was released on March 9 via Epic. The follow-up to 2014's "Redeemer Of Souls" was recorded by British producer Andy Sneap, the band's longtime collaborator Tom Allom and engineer Mike Exeter (BLACK SABBATH). The cover artwork for "Firepower" was created by the Chilean/Italian digital artist and photographer Claudio Bergamin.

JUDAS PRIEST fans from around the Northeast area will be able to meet the band at a New York City CD signing. In addition, there will be an exclusive PRIEST pop-up store at the same location. If you purchase "Firepower" at Sony Square NYC (25 Madison Avenue in New York City), you will receive a wristband that will grant you access to the special event on March 19 at 6 p.m. Wristbands are limited and will be distributed on first-come-first-served basis. This will be the only opportunity to meet the band while they are in the U.S. No posed photos allowed, and the band will sign copies of the new the album purchased during street week at the Sony Square NYC. Also please note, Sony Square NYC only accepts credit cards.

The JUDAS PRIEST pop-up store will also be at Sony Square NYC — located in the gallery at Sony Square NYC (25 Madison Avenue in New York City) from March 9 to March 19. Featured items include a gallery of rare band photos, a display of historic JUDAS PRIEST stage outfits, JUDAS PRIEST lyric sheets handwritten by Rob Halford, and other JUDAS PRIEST surprises. For sale at the pop-up store will be "Firepower", as well as the band's entire vinyl catalog and authentic JUDAS PRIEST merchandise.

---
shep66 - 3/13/2018 at 12:09 AM

Thanks for the post. Great Heavy Metal in the 80's.
---
nebish - 3/20/2018 at 02:18 AM
---
jszfunk - 3/20/2018 at 11:22 AM
quote:

---

---


Cool!!!
---
74Jer - 3/21/2018 at 03:46 AM

Cool if your 13.
---
CanadianMule - 3/21/2018 at 11:14 AM
quote:

---

Cool if your 13.

---


LOL - Someone took a piss in those Corn Flakes again. Your negativity in the morning is like fresh air. By the 4th "It Sucks" post, it was clear that maybe you are already off to a bad start. Or maybe everything just sucks every day?

Could just skip the threads but..............you are far too mature for that I guess.

---
BrerRabbit - 3/21/2018 at 05:01 PM

Noticed that myself. Nothing wrong with saying things suck, but when that is 9 of 10 posts it is plain that you are a sniper hunting for stuff to shoot down.

Whatever. RE the OP, I have a friend is a Priest fan, is it copyright legal you think to take this graphic and have a t-shirt made? cool gimmick, cheezy funny as hell.
---
The_Newt - 3/22/2018 at 11:09 AM

Heavy metal parkinglot from 1986 Judas Priest concert filmed outside Capital Centre Landover, Maryland, on May 31, 1986, before a Judas Priest concert during their Fuel for Life tour (with opening act Dokken).

https://www.youtube.com/watch?v=whZuz5Dwtw8

Updated where are the people from heavy metal parkinglot in 2006?

https://www.youtube.com/watch?v=ueTZjqxMOh4
---
jszfunk - 3/22/2018 at 11:24 AM
quote:

---

Cool if your 13.

---


I don't know, I just thought it would be something fun to post, that a few might enjoy.


I probably post a lot of things on this site that people don't give a hoot about, and that's fine. I know a few might take interest.

Traffic is slow on here and has been for awhile. I try and generate topics that might spark a discussion and so forth, maybe not always successful. This is the only social media platform I use, and I love this site. I do not facebook , instagram and etc. There are a lot of intelligent people on here who I enjoy hearing their thoughts, views and perspective on music and whatever else comes about. May not always agree, but it opens my mind.

I hope inside I will always be that "13yr old" spinning the vinyl ,Ktels Masters of Metal, on my dads hand me down Zenith stereo in my bedroom.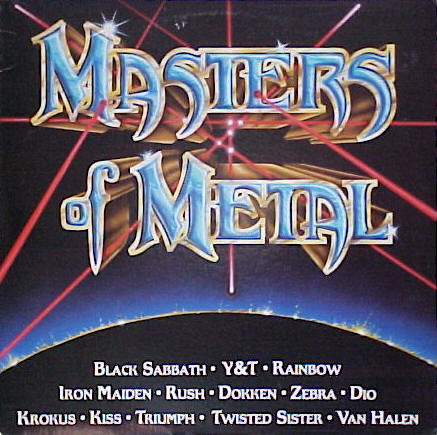 Track listing

Black Sabbath - Trashed
Y&T - Mean Streak
Dokken - Breaking the Chains
Zebra - Who's Behind the Door
Dio - Rainbow in the Dark
Krokus - Screaming in the Night
KISS - Lick It Up
Rainbow - Street of Dreams
Iron Maiden - Run to the Hills
Rush - Tom Sawyer
Triumph - A World of Fantasy
Twisted Sister - You Can't Stop Rock 'n' Roll
Van Halen - Dancing in the Street


[Edited on 3/22/2018 by jszfunk]
---
BrerRabbit - 3/22/2018 at 04:48 PM


No explanation needed, that guy is a negator. I for one appreciate the rock posts.
---